SR Sales: Original Equipment Manufacturer Parts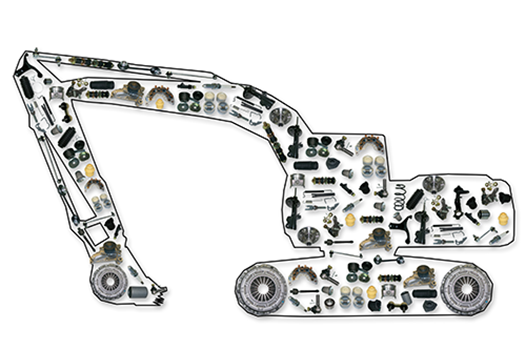 SR Sales stocks a whopping 500k SKUs of OEM parts! They are based in Milwaukee, WI and ship most orders same day. Equiprent.com is proud to feature them as one of our premier OEM parts suppliers. If you are an equipment owner looking for the best value on your replacement parts, consider the options from SR Sales. 
Let's dive into each of their storefronts and brands on this blog:
SR Sales: Bush Hog OEM Parts
Bush Hog makes some of the toughest lawn mowers, grapplers, drive shafts, scrapers, diggers, forks, snow blowers, truck-mounted blades, Quickie loader attachments, single-spindle and multi-spindle cutters, and rear-mounted blades. SR Sales carries about 946 Bush Hog parts for sale. Check them out!
SR Sales: Clark Material Handling and Golf Cart OEM Parts
Clark is one of the classic forklift brands. SR Sales carries 285 of their forklift parts and golf cart parts. 
SR Sales: Doosan OEM Parts
Doosan is one of the top 5 earthmoving equipment manufacturer in the world. They make crawler excavators, wheel excavators, log loaders, material handlers, wheel loaders, articulated dump trucks, and attachments. SR Sales has a 3655 Doosan parts for sale on their storefront! There are plenty of original Doosan-manufactured parts to keep your earthmoving machines running smoothly. 
SR Sales: Intertractor America OEM Parts
Intertractor America makes excellent undercarriage components and engines for earthmoving equipment such as excavators, dozers, and tractors. 
SR Sales: JCB OEM Parts
JCB is the leader in telehandler sales worldwide and an excellent brand. They produce many kinds of material handling, aerial, and earthmoving machines. SR Sales has 1614 of their parts active!
SR Sales: Kohler Power Systems OEM Parts
Kohler is world-renown for their heavy-duty industrial engines and generators. SR Sales has over 1100 of their original parts to choose from!
Can't find a part you need? Please contact us at info@equiprent.com or 630-780-7500.