Peer Executive Group Recognizes 2019 Top Gun Rental Stores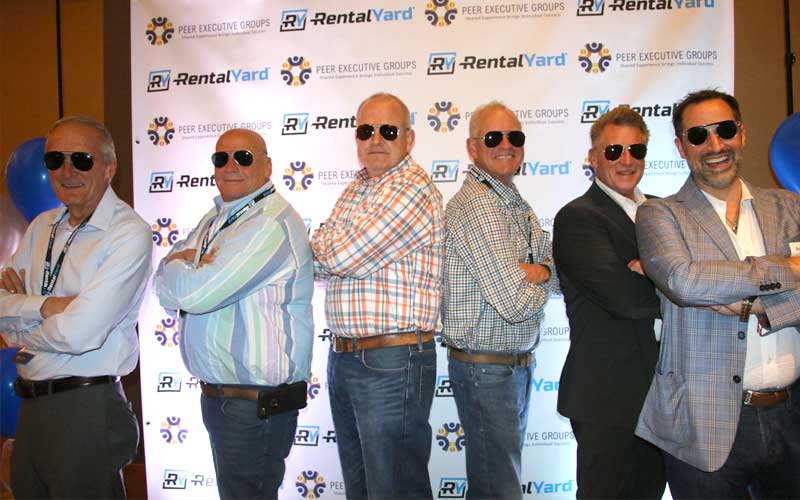 Peer Executive Groups (PEG) has recently announced the winners of its 2019 Top Gun Awards at Talking Stick Resort in Scottsdale, AZ. The Top Gun Awards are in recognition of equipment rental businesses and dealers who have excelled in six key financial metrics relative to their peers. Peer Executive Groups consolidates Peer Group members' financials into an annual composite book for business owners to understand how they stack up and where they can improve.
This is the second year for the Top Gun Awards general tool/construction category. New to this year's ceremony will be the first ever winners of party/event rental category.
Peer Executive Groups is located in Bethlehem, PA. It is a business analysis group that is dedicated to the growth and success of participating members in the construction rental equipment industry. It is an opportunity for industry professionals to not only get great business advice, but peer-driven accountability. 
PEG has a comprehensive network of subject matter experts, facilitators, and industry vendors/suppliers that allows them to create and deliver meetings for long-lasting groups of business owners. 
In addition to rental equipment companies, PEG has developed several peer groups in a variety of industries. There are more than 170 companies which participate in 19 peer groups.
In order to determine this year's Top Gun winners, PEG has established a detailed criteria to judge each participant. Over 100 members submitted financial data and were subjected to six essential metrics to determine performance benchmarks. The top 25% of these companies make up the Top Gun group.
The following are the determining 6 KPI metrics:
EBITDA Growth
Benchmark: More than 10% growth each year.
Calculation: Multiply EBITDA (earnings before interest, tax, depreciation and amortization) by 5
The primary baseline for this metric is a multiplier of EBITDA that rental equipment businesses are valued prior to an acquisition. Depending on the size of the business, the multiplier might be closer to 3x EBITDA for smaller companies with a smaller footprint. A larger, more established rental store can be closer to 7x or 8x EBITDA.
Rental Sales Growth
Benchmark: More than 10% growth each year.
Calculation: Divide the change in year over year revenue by the previous year's total revenue.
This metric looked at rental companies with over 10% growth as it relates to change in business value.
Using a Trailing Twelve Months measurement is a good gauge to determine the health of a business. If current S&P 500's growth is at 10-12%, the company's growth should be around the same.
A variance in this metric could show the company's growing value is not the same as its' revenue. This could simply mean the company is investing back into the business and expenses are growing linearly with revenue. This would cause EBITDA to remain the same despite the revenue increase. 
Asset Utilization
Benchmark: Greater than 50%
Calculation: Divide Rental Revenue by Original Equipment Cost (OEC) as recommended by the ARA.
How a rental company utilizes its' assets is determined by an Asset Utilization Matrix. This matrix determines how both physical and dollar assets are used effectively. A look at the 4 matrix categories - Overworked, Shooting Stars, Problem Children and Cash Cows - were used to see if the company's utilization falls in the is in the 60-70% range. 
Debt to Asset Ratio
Benchmark: Less than 30%
Calculation: Divide the long term debt by total original asset cost.
A rental store's debt to asset ratio is important to its long term success. This metric was looked at to see how a company's long term debt versus its equity in the equipment is kept as low as possible. A low debt to asset ratio means the business has more leverage during a healthy economy, but less pressure during a downturn.
Personnel Expenses as Percentage of Sales
Benchmark: Less than 35%
Calculation: Wages, taxes, and benefits divided by revenue.
Employee expense is the biggest cost to management. In order to become a Top Gun, these costs needed to be under 35%. This metric is a good measure of productivity per full time employee. A company with too many employees or underperforming workers can greatly affect this metric. It is a good benchmark to shoot for in order to expose the effectiveness of your team and management.
EBITDA
Benchmark: Greater than 30% of revenue and more than 10% growth each year.
Calculation: Based on net income before adding back Interest, Taxes, Depreciation, and Amortization.
EBITDA is your measure of profitability and free cash flow. It is what is typically used as a measure of your valuation. The PEG looked at this metric to determine which participants focused on improving rental sales growth, asset utilization, debt to asset ratio, and overhead wages as a percentage of sales.
The Top Guns
The following are PEG members who earned the title of 2019 Top Guns. These well deserving rental stores achieved high marks for each of the 6 KPI metrics and continue to grow. The winners for tool and construction rental include:
Aspen Rent All, Basalt, Colorado
Atlantic Lift Systems, Norfolk, Virginia
https://atlanticliftsystems.com/
Badger Rental Services, Savannah, Georgia
https://badgerrentalservices.com/
Bottom Line Equipment, Lafayette, Louisiana
https://www.bottomlineequipment.com/
Bullet Rentals - Klamath Falls, Oregon
Cal-West Rentals - Petaluma, California
https://www.calwestrentals.com/
C.E. Rentals, Elmhurst, Illinois
Chet's Rent All, Rochester Hills, Michigan
Goggin Rental - Kalamazoo, Michigan
Leppo Rents - Tallmadge, Ohio
Mako Equipment - Santa Fe Springs, California
Rabern Rentals - Amarillo, Texas
Rental Guys, Chico, California
Rental Max, Wheaton, Illinois
Tates Rents, Boise, Idaho
Tejas Equipment Rental & Sales, Mc Allen, Texas
Vandalia Rentals, Vandalia, Ohio