Transaction Costs of Equipment Rental: The Solution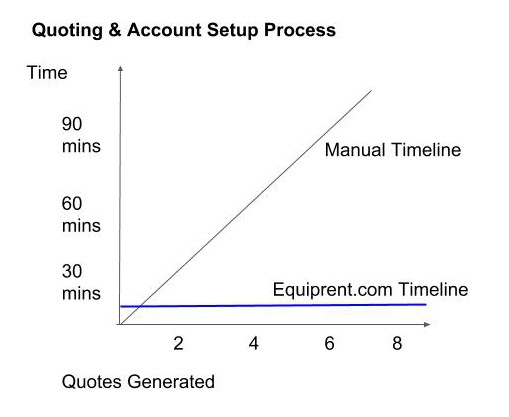 The Solution
When asked the follow up question, "What if you could book with any rental supplier online and manage the entire process seamlessly no matter who delivered the equipment?" Contractors typically respond that they would be happy to rent from other suppliers if the process was easy.
The key is to greatly reduce or eliminate all four transaction costs currently restricting rental bidding.
On Gearflow.com, contractors can easily view the ratings and prices of equipment rentals from multiple local suppliers (Chicago-only to start). Let's take a look at how the time comparing rental suppliers on Gearflow.com to making manual calls (see attached).
As we can see, it is much faster comparing suppliers online than manually. We do this regularly when shopping for retail (Amazon), rental cars (Priceline), hotels (Hotels.com), home goods (Etsy), and vacation homes (Airbnb).
The speed of quoting online virtually eliminates transaction cost #1: Obtaining multiple quotes.
For transaction cost #2: Managing multiple deliveries/pickups, Gearflow.com sends users automatic emails confirming when a rental is booked and when the machine is on it's way. This way, all a user has to do is check their inbox for updates on their deliveries. This dramatically reduces the transaction cost when compared to manual calls to the rental company for updates.
For transaction cost #3: Managing damage claims with multiple companies, Gearflow.com is building a feature where users can take multiple condition pictures of the rented machine to document the condition before and after the rental. While damage claims will still happen, documenting the condition allows contractors to see whether their workers did the damage or not. This is a huge improvement over the process today which largely does not take condition pictures before/after rentals. This leaves damage repairs to sometimes be paid for by the rental company or by a contractor who did not actually do the damage.
For transaction cost #4: Aligning quote to invoice from multiple companies, Gearflow.com gives our users a dashboard to track:
Recent Activity
Messages to Suppliers
My Orders
My Downloads
Cancellation Requests
Return Requests
Favorites
Reward Points
These tools make it seamless to rent from any supplier on the platform as it is all tracked and stored in user's dashboards. Users can easily check on their past orders with any supplier and see their past bookings and paid amount. Since Gearflow.com handles the payment (via PayPal), users will be charged the rental amount they booked on the site.
Eliminating and reducing the unseen transaction costs of equipment rental is vital for contractors looking to do more with less. Gearflow.com helps contractors expand their profit margins and save time through access to much greater selection and convenience on the platform as compared to manual efforts.
We look forward to your feedback!
Luke Powers
Founder & President of Gearflow.com
luke@equiprent.com